Whether we like to admit it or not, a massive trend we are undeniably seeing at all European perfume exhibitions is Arabian perfumery. The Arabic style, recognizable by an oriental bottle design and traditional oriental compositions, occupied an important place on Esxence 2016, creating a wide array of aromas and giving a clear confirmation that in the future we can expect their expansion across Europe and the world. The strengthening Arabian perfumery in Europe preceded the popularization of oud, which is dynamically "dragged" into both mainstream and niche (lux) offerings. Oud, I can freely say, reigned and prevailed over the many perfume notes, opening the door to new olfactory adventures for numerous perfumers around the world.
This year on the Esxence perfume expo in Milan, we saw more than 20 Arabic style brands, which can be classified in several directions. Their expansion is really obvious! Among them we found typical Arabic, traditional, oily perfumes, with strong oriental compositions, inspired by the Arabian history and culture. These houses were from countries like the UAE, Dubai, Kuwait, Morocco, Qatar ... Other brands chose to create a balance between East and West, with oriental and classical French compositions, in order to bridge the differences in styles targeted by a number of markets. And then there are those houses that are not from from the Middle East and already established themselves in Europe or the US, using a name and style directly inspired by the Arabic culture. Conversely, some brands based in the Middle East chose European perfumers, building their collections in a different manner.
It can be confusing for ordinary perfume users and admirers, who are attracted by the image of the brands but have no idea what to expect from certain exhibitors. Those who are not a fan of intensive and traditional oriental composition often tend to "skip" certain brands, thinking they do not offer the fragrances of their taste. If you see brands that in their name use the word Oud, you can certainly expect the traditional Arabic style, but classical compositions for the European region are also offered, and these blends have a low (sometimes negligible) percentage of oud itself. In fact they are very modern, wearable and commercial.
My suggestion is to skip the prejudice and enjoy the variety of all that is presented!
Nabil Hayari promoting NEW OUD in Milan
In addition to all the brands that are actually from the Middle East and used oud in high concentration, which is the typical and very distinctive Arabic way, many of the French and Italian niche houses seemed also attracted by the strength and smell of oud, and chose to have fragrances with oud in their own collections. Among the many, we found
Robert Piguet
with their oud releases
Oud Delice
and
Oud Divin
,
Hayari's
new
New Oud
fragrance, and
The Merchant of Venice
with the new edition in their beautiful
Flame
collection,
Orchid Oud,
a characteristic, Arab fragrance. Montale Paris is already well known in oud blend themes and this year offered several new oud editions (
Oudmazing,
Tropical Wood
,
Aoud Lagoon
). Oudmazing brings an interesting combination of oud and green shades of fig tree and fig leaves, while Oud Lagoon brings exotic smelling lagoons with tropical white flowers, exotic fruits and a discreet oriental influence of oud.
Oud is definitely IN, no "lull" there, but it is most frequently used as a ticket to enter the Arabic market, or as a challenge to European perfumers usually blending with conventional ingredients. Personally, I adore traditional oriental perfumery, and for me it was a pleasure to smell so many oriental variaties at Esxence in Milan this year.
KAJAL
At the house
Kajal
I felt especially "weak" because their first fragrance
Kajal Eau de Parfum
lays perfectly on the skin, while its power, sillage and the beauty of the composition would inspire me to wear it often. I think this is one of the newest editions that will win many markets and find great fans of oriental-floral compositions. The brand is originaly from the Middle East but their goal is to position themselves as a brand that creates quality products not targeted by certain countries.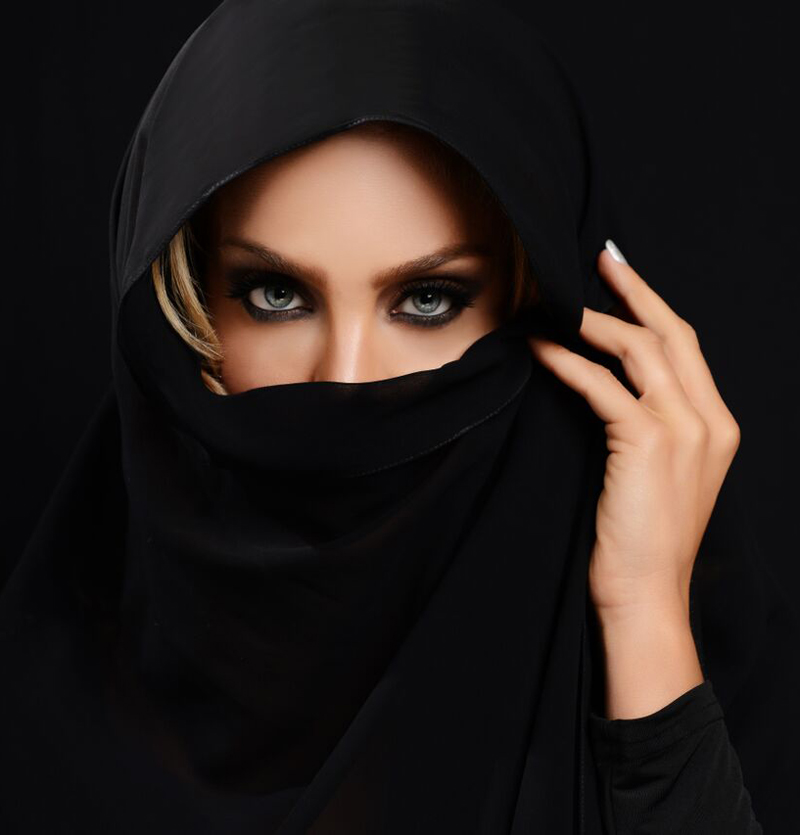 At Esxence, Kajal presented its three editions
Kajal Eau de Parfum
,
Kajal Homme
and
Dahab
, and as I found out in my conversation with Ibrahim and Moe, we can expect a significant expansion of the men's line, as well as one more feminine fragrance in the near future. Just a few days before Milan's show, Kajal opened an enormous selling point in Kuwait, hereby very successfully reaching a new market.
THE SPIRIT OF DUBAI
THE SPIRIT OF DUBAI
grandly presented their existing collection of five fragrances, as well as their two new releases, and on top of that showed off an accompanying program of body care and beautifully designed gift sets. The new fragrances, called
Fakhama
and
Majalis
, are made in the traditional Arabic style. The smell of Majalis is characterized by intensive aperture coffee, dates and a delicate incense flavor. The fragrance is designed as an evening of relaxation in a family house, sitting on a soft and precious Persian carpet. A very strong note of coffee and the smell of sweet, gourmet dates are surrounded with the scent of incense and rose Bakhoor that permeate the air, creating a special softness and enhancing a feeling of pleasure and satisfaction. I just loved the raw notes of coffee, they are extremely clear, black and intoxicating!


TOLA
The
TOLA
collection was presented in a booth of very interesting design with numerous metal teapots and tea cups. It's always a pleasure for me to try the beautiful compositions of the Tola brand, especially the excellent musky edition
Misk Begum.
The latest edition from Tola we were able to try was
Alhada
., which was launched last year.
S-ISHIRA
S-ISHIRA
, a brand based in Qatar, launched a whole new fragrance collection at the fair in Milan. The collection consists of six fragrances inspired by the symbol PHI (golden section - golden ratio). The compositions are of very good quality; they are oriental, and every detail of the bottles is in conjunction with the preliminary concept of the golden ratio. Their
Vanilya
I really liked because it was very sensual and soft with a specific milky twist, almost like you're on an airy and delicate cloud of vanilla. I don't remember ever encountering a similar vanilla fragrance.
(About the entire collection I will soon write a separate article)
AJMAL
AJMAL
presented their two collections called
W Series
(wood collection) and
M Series
(musk collection), both containing luxurious editions in lovely crystal bottles.
THE GATE
THE GATE
is a brand based in the UAE which presented their Love Collection with 6 new fragrances exclusively showcased at the fair in Milan. The fragrances are very wearable and not typically Arabic. What draws your attention is the very beautiful bottles that at first glance appear to be colored in an opaque, metallic gold, however, the glass of the bottles is transparent and the liquid in them lends a special, beautiful effect. They are packaged in a box that opens as two doors, inspired by the name of the brand. The founder is the brains behind all the details, including the logo that represents a gate (their entrance to the world of perfume), enriched with details in the form of the number 8 (which stands for infinity).
The fragrances are unisex and their scope ranges from the freshest citrus to the most powerful leather-wood. I would single out Precious Moments, which has pronounced notes of sweet, dried fruit and warm, soft and cuddly shades of tobacco and wood. The Gate was established by Fady Adwan, a Palestinian who says he cooperated with perfumers from Europe and America in creating the brand's new collection of fragrances.
The new collection includes: First Sight, Sensual Dreams, Precious Moments, Inside Out, Memories and Duet.
AJ ARABIA / WIDIAN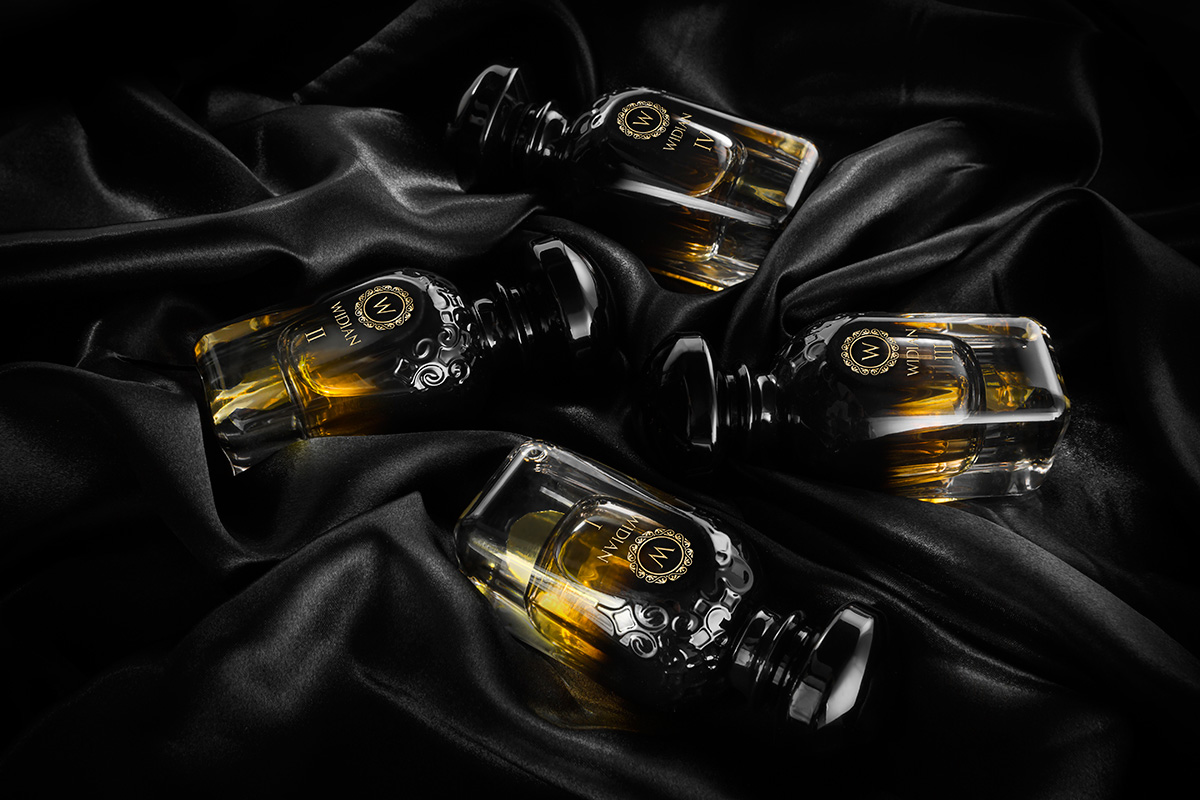 As we all know, the AJ Arabia Brand changed its name to
Widian
and at the Esxence fair in Milan they presented their entire collection. The Classic Black collection by Widian counts five fragrances numbered from I to V (in latin numbers).
THE HOUSE OF OUD
THE HOUSE OF OUD is a new house from Dubai which immediately attracted my attention with their flacon design. The bottles of their collection really leave you breathless! Many exhibitors and visitors shared my opinion that their beauty is truly unusual. The bodies of the bottles have vivid colors and are in the form of stone pebbles, which stand on a pedestal in gold (the actual stopper). In effect, the bottle is placed upside down, standing on its cap, which is decorated with a relief design.
The House of Oud has nine scents that extend in three directions: four fragrances are oriental, very intense and dedicated to the seasons of the year; the other four fragrances are inspired by different atmospheres and emotions, while one fragrance, which was set in the central spot of their stand, is traditionally Arabic, dedicated to oud wood. My favorite ones are Abib - Grape Pearls (a bottle in purple gold shades) and the fragrance in the golden-white bottle bearing the name of Wind Heat.
Grape Pearls is a song about life and positive energy that vibrates around us. The smell is intoxicating and intense with aromas of red wine (grapes); velvety, and with a bit of sweetness from blueberry juice. Wind Heat I liked because of the almondy and milky nuances blended with a seductive and creamy musk. The name of the fragrance is a reference to a technique of meditation that slows everything down until we find our inner peace and balance. The composition is cuddly, with soft chamois leather and musk, discretely sprinkled with flower petals.
The names of their fragrances are: Golden Powder, Blessing Silence, Wind Heat, Breath of The Infinite and in the other collection Medjool - Dates Delight, Abib - Grape Pearls, Al-Lauza - Almond Harmony, Arar - Cypress Shade. And then there is the above mentioned traditional scent of pure Oud in a golden-brown bottle. The fragrances are available in 75 ml Eau de Parfum flacons.
HADARAH
Hadarah
completely changed their collection with the introduction of new fragrances in bottles of 30, 65 and 200ml. All scents are very intense and blended in an oriental manner.
The Hadarah booth was stunningly set up with a glass window that was painted with ornaments, giving a very special touch to the photographs that we made at the fair, as well as to the entire presentation of their bottles and outer packaging.
BLEND OUD
BLEND OUD is a house known for creating oriental fragrances with a French touch, inspired by blending fragrances in Arabia.
Again, the key ingredient is certainly oud, but their composition is very wearable, classic European and very elegant.
The stand is decorated with trees and wooden stumps making a beautiful contrast with the luxurious black and gold bottles. The bottles contain
75ml Eau de Parfum.
Blend Oud presents 17 fragrances listed in their two collections (standard and lux).
From trying their fragrances, Fragrantica's Emir particularly liked their TEEB edition.
AMOUROUD
AMOUROUD
, a new house established in the US, launched its fragrances in early 2016 under licence of The Perfumer's Workshop. I found out that the existing collection will expand this year with two more editions. One of them will be oriental, dark and with a velvety rose, decorated with spices. The clearly Arabian inspired fragrances come in massive black bottles with a metalic gold label on which is written the name of the fragrance as well as the brand name. The flacons are placed in a velvet bag.